Machines are widely used in HOME ,SALON, SPA,CLINIC. Accept OEM/ODM service.

Would you want to get quick reply within 24 hours online ?
please contact with me directly Tel/ number : +8618754414717

Clinic Use Shr IPL Epilator Equipment (CE ROHS )

SHR
SHR stands for Super Hair Removal, a technology for permanent hair removal which is having a sweeping success. The system combines laser technology and the benefits of the pulsating light method achieving practically painless results. Even hairs which until now have been difficult or even impossible to be removed, can now be treated. "In Motion" represents a breakthrough in permanent hair removal with light technology. The treatment is more pleasant than with the conventional systems and your skin is better protected.150821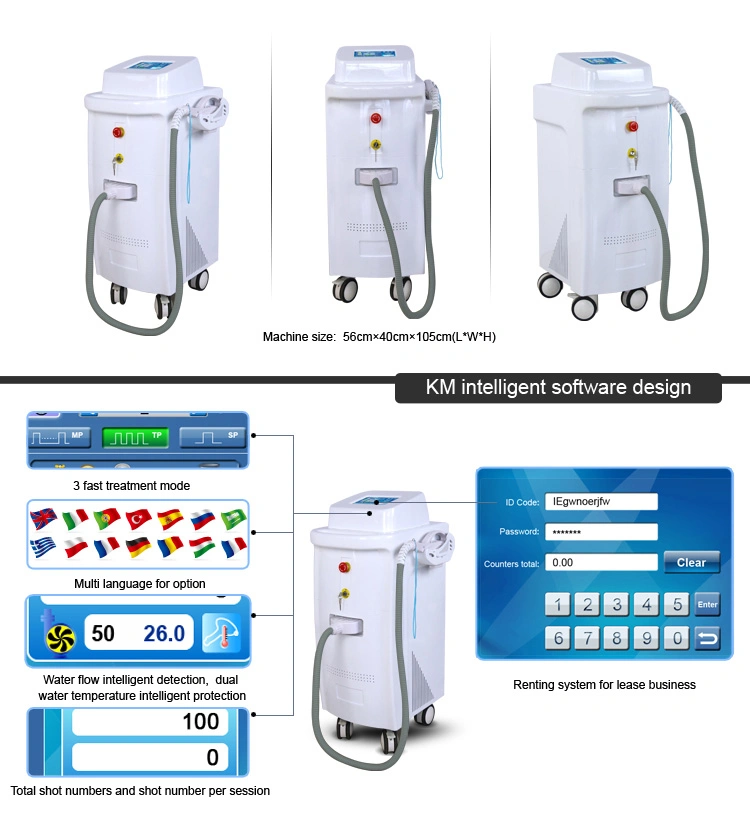 Application
1)Permanent hair removal
2)Skin rejuvenation
3)Wrinkles treatments
4)Spider veins treatments
5)Acne treatments
6)Freckles treatments
7)Pigment treatments
8)Liver spots treatments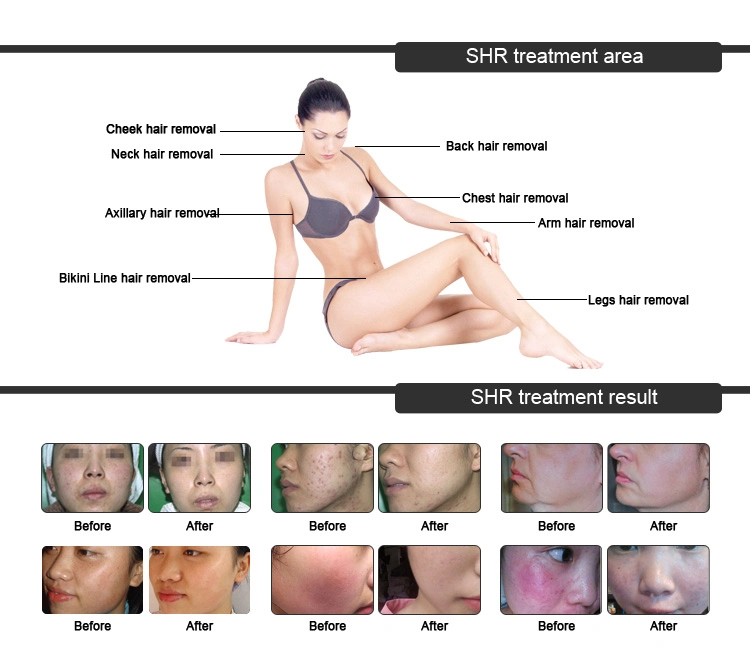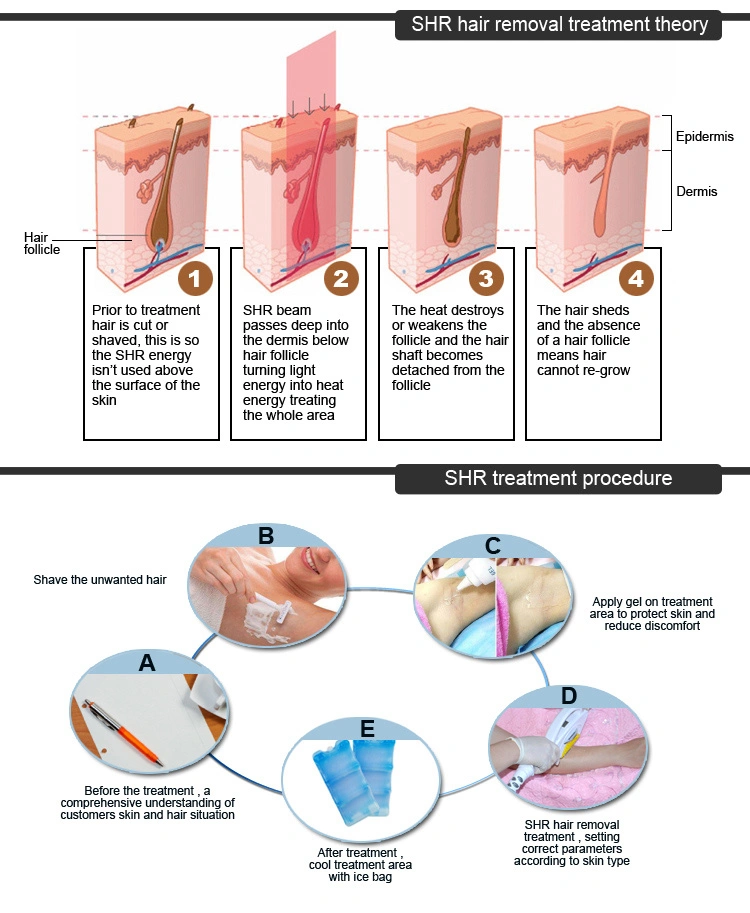 advantages of our SHR machine
1)User friendly, big display
2)Friendly and modern design
3)Flash counter
4)Powerful electro-magnetic clutch pump for the control of water circular flow
5)Low acoustic level
6)Long life time
7)Simple or expert selectable modus
8)Low operating costs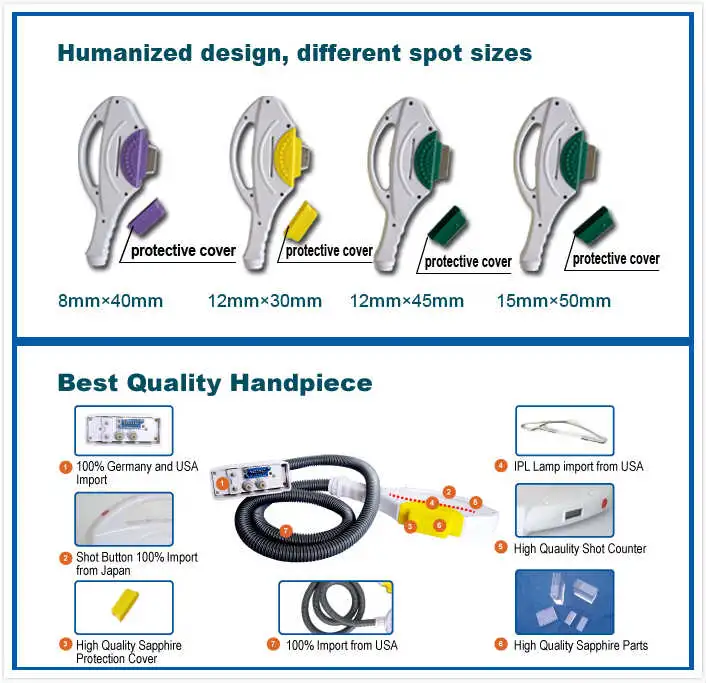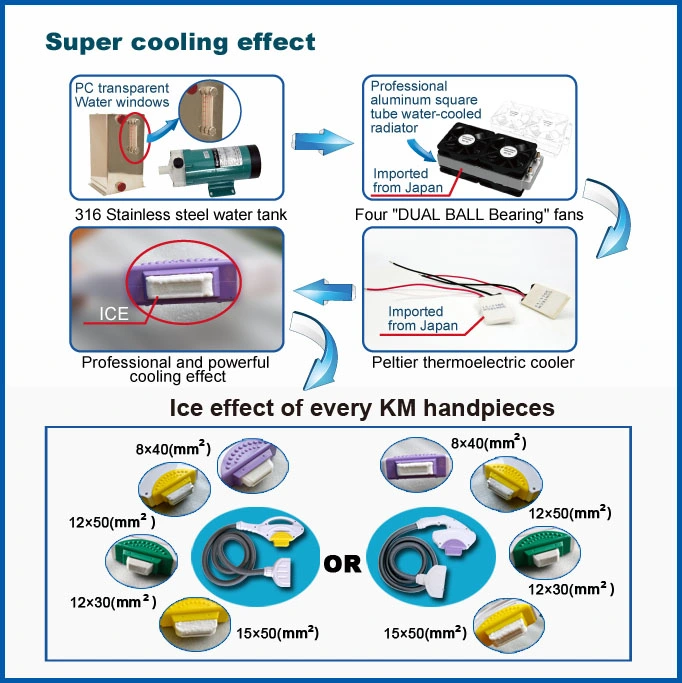 Parameters:
Light source

Intense pulsed light

Spectrum range

SSR:560-950nm, SHR: 640-950 nm

Energy density

1~50J/cm2 for 8×40mm2 handle;

1~36J/cm2 for 15×50mm2 handle

Pulse method

Intense pulsed technology (adjustable)

Repeat frequency

3,4,5,6,10Hz

Continue shotting time

1-200s

Spot size

8×40mm2; 15×50mm2

Cooling system

Water cooling, air-forced cooling and semiconductor cooling

Cooling temperature

-4°c~0°c

Power supply

220v/50Hz or 110v/60Hz
every machine has different handles. UK lamp, one million shots
15*50 ipl handle with 420/530/560/590/640/690/750nm filters ,
15*50 SHR handle
8*40 SHR handle
15*50 SSR handle for rejuvenation
12*45 elight handle with 7 filters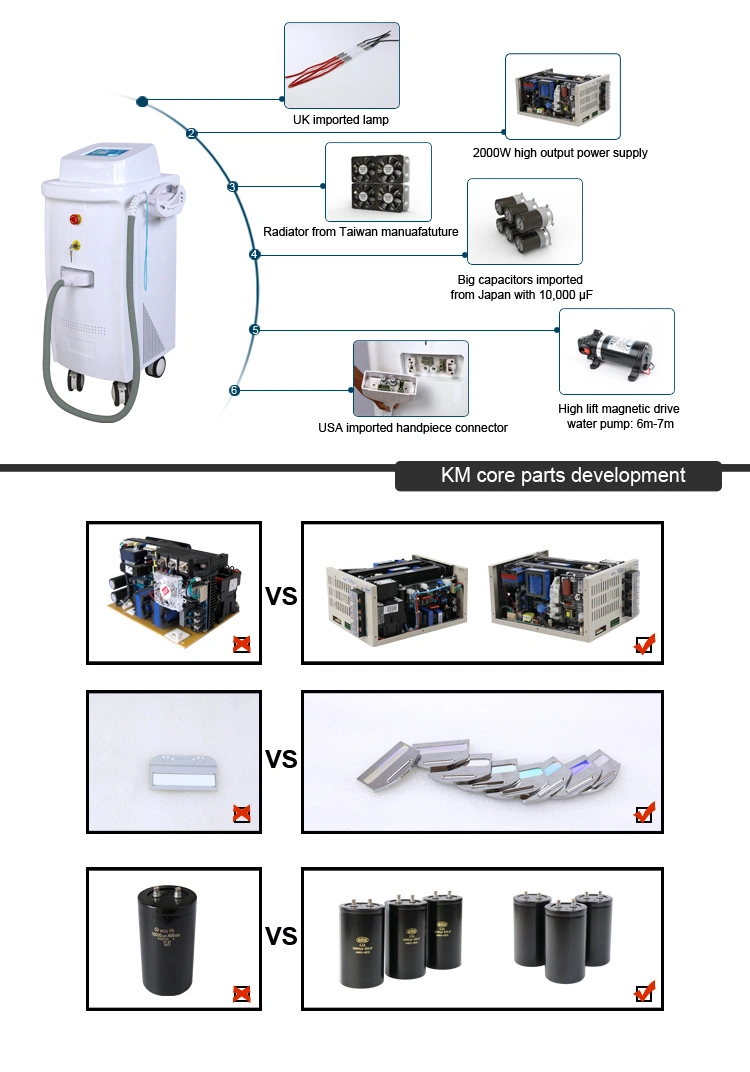 SHR +IPL ; SHR+SSR; SHR+E-light

Question & Answer
1. Which advantages does this have for you?
An optimal intensity can be achieved given that the same area is treated multiple times with
low energy impulses. The treatment is more comfortable and the skin is better protected than
with conventional methods.
2. How are different hair and skin colours affected?
Light skin with dark hair responds most favourably to the treatments. In addition to targeting the
melanin, SHR-technology affects the chromphore, a protein located in the follicle, enabling the
successful treatment of dark skin removing achromous, fine hairs.
3. What does the client feel during treatment?
Treatment with SHR is practically painless as opposed to treatment with the conventional IPL
devices. On areas with dense hair growth, warmth from the light impulses is evoked and the
light impulses may be felt to a much lesser extent than with laser or IPL.
4. Which areas can be treated?
Body hair can be removed on any part of the body. It is recommended a test be performed
on a small patch before the first treatment.
5. How many treatments are necessary?
Until now hair had to be treated during the growing phase (20%-30%). In the telogen phase
stem cells are in a resting phase but can still successfully be treated with the SHR system.
Since growth cycles vary, approx. 8 treatments are usually necessary.
6. How long should the intervals between treatments be?
The hair growth cycle and the interval between treatments should correspond requiring
spacing of approximately 6-8 weeks.
7. How much time is necessary for a treatment?
Depending on the size of the area to be treated, the time varies from 15 to 30 minutes for
a facial treatment and about 3 hours for both legs.
8. Will there be any side-effects?
Skin is more sensitive in some areas of the body than in others and redness can occur as
a side effect. It should disappear in a matter of hours but could potentially be as intense as
a sunburn lasting a few days. Contrary to conventional methods, a light crusting which will
vanish after 2-3 weeks, or an alteration of the sin's pigmentation which will disappear after
4-6 months, are very rare.
9. Precautions to be taken before the treatment?
At least 1 week before the first treatment, intense sun exposure or solarium visits should be
avoided. Hairs should not be waxed or plucked less than 6 weeks before treatment. Shaving
is permitted any time. Areas to be treated should be shaved one day before the scheduled
appointment.
10. Precautions to be taken after the treatment?
The skin's natural protection is highly weakened after this intense light treatment. Therefore a
high level of UV protection (30-50) in the form of suntan lotion should be applied for about
1 week.After 1-5 weeks hair will fall out. Shaving is possible any time but hair should not be
plucked.

Our mainly products are esthetic devices and medical beauty equipment
1.IPL Series
2.E-light(IPL&RF) Series
3.Cavitation Slimming Series
4.Vacuum Liposuction Series
5.808nm Diode Laser Hair Removal Series
6.Fractional Co2 Laser Series
7.Q-switched Nd Yag Laser Series
8.RF Radio Frequency Series
9.650nm Laser Slimming Series
10.Multi-functional Series
11. SHR hair removal and skin rejuvenation series
12. Fractional RF skin tightening series
Our company offer OEM and ODM Service ,We own professional and high-tech enginner department andsale team and after-sales services
term so that we can offer our customer the best and high-tech beauty and medical equipment, powerful technique support and timely after-sale service.
We concentrate on high-quality and high tech of the beauty and medical equipment .Quality and after-sale service is our life, customer is king,
Welcome every customer who are from all over the world come to visit our company, sincerely hope we can establish a long term business relationship in the near futrure!
Welcome to China!!!
Welcome to Weifang City!!!
Welcome to Weifang KM !!!!


Weifang KM Electronics Co.,Ltd
Cindy Wang
Tel/Viber/Whatsupp:0086 18754414717